Checkout these abstract illustrations of different forms and shapes – perfect for numerous design applications.
Price (Individual Illustration): $149
Price (Full Pack): $449
Quantity: 9 Illustrations
Dimensions: 3000 x 3000 px (min)
File Formats: PNG (Zip)
License: Skribbl License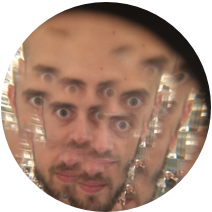 Pol Cercós Güell, AKA Parvus Artwork, comes from beautiful Barcelona, Spain. From an early age, he has been drawn to comics, horror, and sci-fi. Much of his influence comes from the American comics of Mike Mignola, Frank Miller, and Michael Allred. He loves these artists for their ability to give life to the two-dimensional through chiaroscuro and bold lines. Pol is also fascinated by Rothko, Magritte, and Keith Haring, those artists who, in Pol´s words, put light where there was only darkness.
Paper and ink, canvas with acrylics, wall painting with sprays – Pol tried all range of mediums. Breaking his right hand forced the artist to learn to draw and write with his left one. A courageous, stubborn, brilliant young man, Pol is fond of creating comics and digital illustrations in his free time from audiovisual and animated projects.
Having completed your purchase below, the file download will begin, please don't refresh the page during this process. Once downloaded, you can use these illustrations for any purpose, without attribution.
"*" indicates required fields
Skribbl | Royalty Free, High-Quality Stock Illustrations for Design Projects
Enrich your next design project, and support human artistry, with Skribbl's growing collection of royalty-free, hand-drawn illustrations. 

Skribbl © 2023. All rights reserved.