Christmas' Little Helpers
Add some cheer to your festive design projects, with these illustrations inspired by Christmas' little helpers.
Price (Individual Illustration): $19.99
Price (Full Pack): $59.99
Quantity: 9 Illustrations
Dimensions: 3000 x 3000 px (min)
File Formats: PNG (Zip)
License: Skribbl License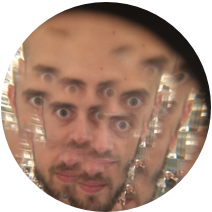 Pol Cercós Güell, AKA Parvus Artwork, comes from beautiful Barcelona, Spain. From an early age, he has been drawn to comics, horror, and sci-fi. Much of his influence comes from the American comics of Mike Mignola, Frank Miller, and Michael Allred. He loves these artists for their ability to give life to the two-dimensional through chiaroscuro and bold lines. Pol is also fascinated by Rothko, Magritte, and Keith Haring, those artists who, in Pol´s words, put light where there was only darkness.
Paper and ink, canvas with acrylics, wall painting with sprays – Pol tried all range of mediums. Breaking his right hand forced the artist to learn to draw and write with his left one. A courageous, stubborn, brilliant young man, Pol is fond of creating comics and digital illustrations in his free time from audiovisual and animated projects.
Skribbl | Human-Made, Hand-Drawn Illustrations for Creative Projects
Enrich your creative projects and promote human-made art with Skribbl's hand-drawn illustrations. Browse our high-quality collection now.
Skribbl © 2023. All rights reserved.